Black Women and Religious Cultures 2.1 https://doi.org/10.53407/bwrc2.1.2021.100.00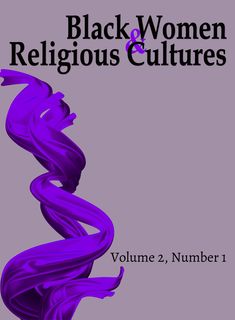 Access to this project is restricted.
Only users granted permission may view this project's texts, resources, and other content.
About
Editorial Introduction

Black women's labor and creativity often are intertwined. Black people, in general, and black women, in particular, regularly accommodate the reality that class, social and economic opportunity, gender identity, and more, intersect with myriad iterations of coloniality and anti-black racism and confound ideas and efforts to live normally and thrive. During the past 15 months of the COVID-19 pandemic, in addition to the variety of other normalized abnormal realities they commonly confront...
Essays
The Ghanaian PCG Tent Women Clergy as Revolutionaries

Since 1979, after attaining access to most roles in Ghanaian society and churches, ordained women in various communities have combined duties as Christian ministers with their duties in other professions. The term "tent" refers the women clergy who also are teachers, nurses, medical doctors, bankers, politicians, lawyers, farmers, traders, engineers, professors, soldiers, and more. They successfully combine roles to make themselves revolutionaries. Using library and archival materials as well as data from field research, this study reveals that women leaders in church and society are merging professions so effectively that they deserve acknowledgement for important ministry contributions, especially to the advancement of women. The study recommends that women should be partnered equally with men in their role performance in the church and society. Key Words: Women, Tent Ministers, Presbyterian Church of Ghana, Revolutionary

Rituals of Restorative Resistance

Healing Cultural Trauma and Cultural Amnesia through Cultural Anamnesis and Collective Memory

by

Jean Derricotte-Murphy

Using a womanist auto-ethnographic approach, this essay presents an anamnestic remedy for healing cultural trauma and cultural amnesia within the African American community. The essay narrates the creation then infusion of rituals of restorative resistance into the liturgy of a traditional, urban black Baptist Church as a means of resistance, resilience, and restoration. By commemorating the sacrifices of Jesus and enslaved African ancestors in eucharist rituals that are enhanced with sacred songs, readings, and symbols, the liturgy expands the meaning of "Do This in Remembrance of Me" (1 Corinthians 11:24) to "Re-Member Me." Drawing especially on work of Engelbert Mveng, Delores S. Williams, Barbara A. Holmes, Linda E. Thomas, and JoAnne Marie Terrell, and combining theology and anthropology, the essay describes a hermeneutic of healing within the community. It argues (1) that participation in enactment of rituals of restorative resistance decolonizes minds and deconstructs negative Western characterizations of black and brown bodies and (2) that ritualistic inversion and transformation of painful histories and traumatic stories into narratives and symbols of endurance and faith can re-invent, re-construct, and re-member individuals and communities into whole and healed entities.